Tile Flooring: An Artistic Expression of the Home
Tile Flooring in The Woodlands, TX
Check out our multitude of colors and styles for flooring that is sure to make an impression in your living space. From classy neutrals to rich browns and pinks, we have a variety of tile options in our showroom that will suit every style imaginable. Since tile flooring may be cut into various shapes and sizes, you're welcome to customize your installation. Whether you're planning to adorn your surfaces with a single color to a flashy pattern, you're able to create freely with tile. Our flooring specialists are available to help plan and coordinate your next flooring project.
When you want beautiful floors that resist the elements, choose durable tile flooring from
Flaherty's Flooring America
. Whether porcelain or ceramic, tile is ideal for moisture-prone environments, such as the kitchen, bathroom, and basement. It also works great for any room in your home - the living room, bedrooms, and grand foyer. This flooring surface is not only strong and moisture-resistant, but it has a multidimensional look that makes it a visual masterpiece.

The Beauty & Functionality of Tile
From adaptable ceramic to elegant porcelain and everything in between, our tile flooring options offer flexibility and strength in one attractive package. Tile resist stains and spills with ease, and their tough finishes ensure a robust surface. In effect, tile floors are a low-maintenance option that you can depend on for durability and lasting visual appeal. Learn more about our tile selection:
Ceramic
Crafted from a heating and cooling process using a kiln-fired clay, ceramic is one of the most popular selections for both backsplashes and flooring designs. While most ceramic tiles offer a glossy and glazed finish, non-glazed tile flooring contains a pattern that prevents slippage underfoot.
Porcelain
Porcelain is created using the same method as ceramic, though its kiln-fired clay requires a longer heating period. As a result, the finish is more durable and denser than its ceramic equivalent. Additionally, finer clays are typically used in the making of this beautiful tile.
Stone
If you're are looking to add a more rustic or natural look to your home, check out our collection of stone tiles. Our stone tiles are made from raw materials, including travertine, marble, granite, and slate. Stone is typically more durable than ceramic tile due to its natural strength, and it can add a luxurious touch to any design.
Beautiful Wood-Look Tile
Wood-look tile is a great option if you love the look of hardwood floors but need flooring that is more suitable for your kitchen or bathroom. We offer a large selection of ceramic and porcelain tile that has the look and feel of real hardwood flooring. Through a photo imaging process, traditional ceramic and porcelain tiles can imitate the appearance of natural wood.
Solid hardwood floors are not the best choice for bathrooms and kitchens. This is because the wood planks can expand when they come into contact with any moisture or standing water. Wood-look tile is water-resistant so it will provide you with the protection you need and the appeal you deserve. With its wood plank style, wood-look tile is available in the appearance of well-known wood species such as pine, mahogany, oak, and more. With its solid surface, wood-look tile repels dirt, dust, water, and other stains. Due to this, cleanup and maintenance of your new tile flooring are quick and simple, letting you save time and energy for what matters most to you.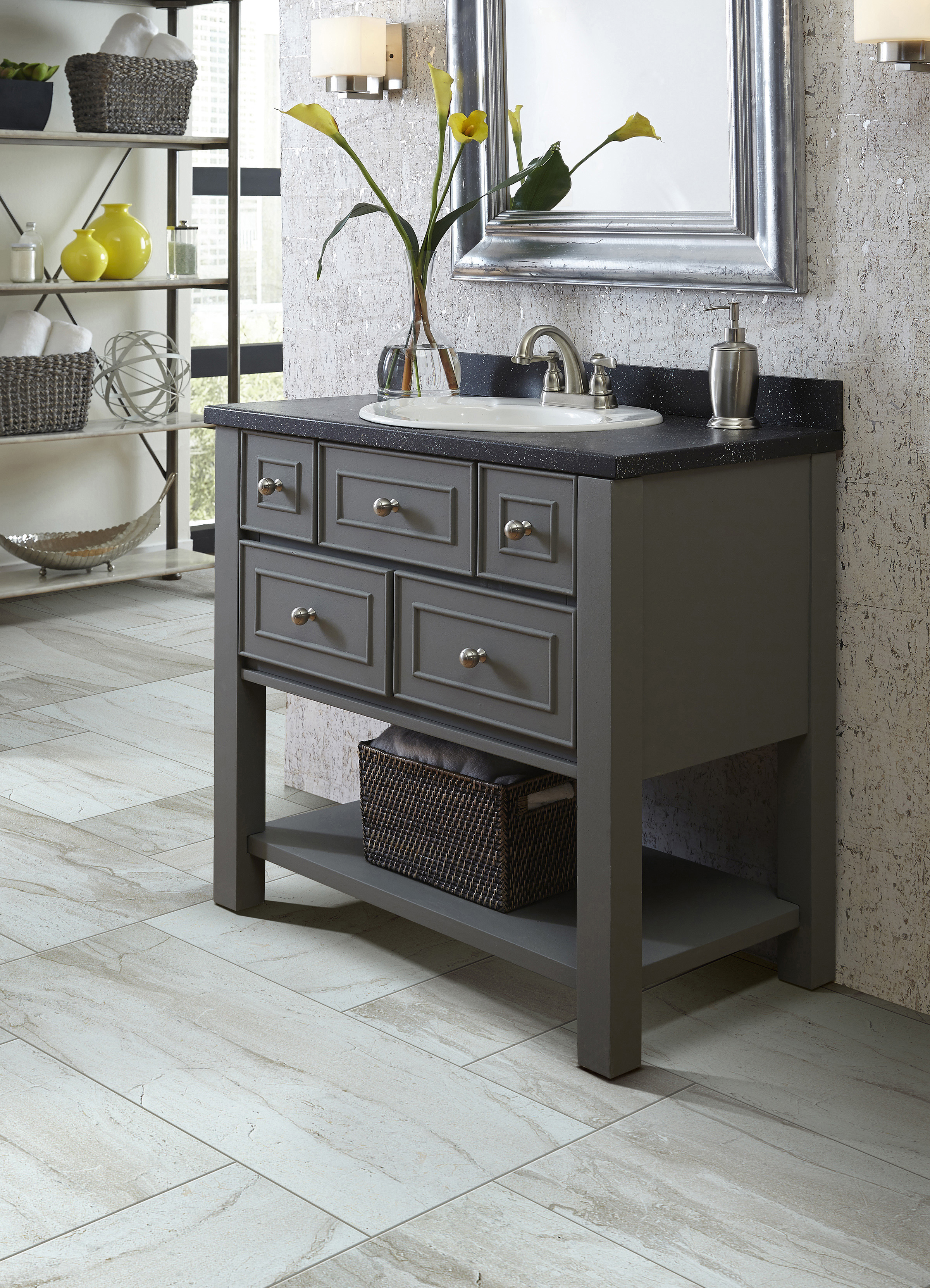 Maintaining Your Tile
Your new tile floor or backsplash will remain beautiful for years with the proper care and maintenance. Tile flooring is one of the most durable options on the market, with resistance to dampness, scratches, heat, and general wear and tear. Sweeping and vacuuming should be done regularly, with a damp mop once per week to remove any dirt and debris that has accumulated. To avoid damaging your tile's glaze, be sure to check the warranty on your floor before purchasing or using any cleaning solutions. Our team is happy to make recommendations on scouring powder, pastes, and specialty products if you want a deeper clean.
Professional Tile Installation Services
Don't spend your time or resources searching for a reliable contractor. Our showroom offers complete tile flooring installation services to make things easier on you. When you hire our professional installers, your new tiles not only look great, but they'll last for years to come. Our installers are certified and have years of experience in the flooring field. From properly mixing grout to laying your tiles, our installers are meticulous, efficient, and dedicated to delivering excellence with every tile flooring project.

When you trust us with your flooring installation, our promise to you is to install a long-lasting tile floor whose beauty can withstand the test of time. Trust our experts to use the best care and installation methods. All of our tile products are covered by industry-leading warranties, including our Ultimate Confidence Guarantee.
Contact us today with any questions about flooring your home with tile. We proudly serve customers throughout The Woodlands, as well as Houston, Spring, Spring Valley Village, and Tomball, TX.